In April 2012 Clive and I led our first ever trip to the beautiful Isle of Sark in the Channel Islands. Although we had scouted the island thoroughly a year before, and were confident that everything was in place for a fantastic tour, our preparations were about to be put to the test with the arrival of 10 clients at Maseline harbour.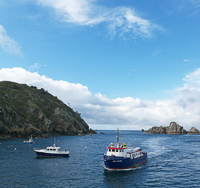 The Sark tour is unique in that the tour begins with a 45 minute ferry journey from St. Peter Port on Guernsey, past the small island of Herm to the tiny harbour on the sheltered south eastern side of Sark island. The adventure continues on arrival, when transport from the harbour to the centre of the island is provided on the "toast-rack" which is basically a bench seated trailer pulled by a tractor. The islanders miraculously take care of your baggage which usually beats you to your hotel room via some sort of magical process that obviously requires a great deal of hard work, but goes almost unnoticed in the excitement of your first views of this haven of peace and tranquility.
We were to be based at the wonderful Stocks Hotel for the week, which sits at the head of the Dixcart Valley in peaceful seclusion. After an hour or so to settle in we arranged to meet in the hotel bar at 18:30, before the first of many spectacular dinners we were to enjoy that week. The hotel was superb and became an enormous part of the tour's success. The accommodation was luxurious, the food amazing and the staff were not only friendly, helpful and informed, but also took a huge interest in everything we were up to.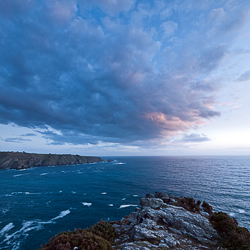 The weather forecast for the week was for "changeable" conditions, a typically British way of saying "we haven't got a clue". This suited us fine though, as it promised some exciting light, great clouds and skies and some serious "action" in the ocean – perfect for coastal photography. In the end the forecasters were correct as we had an infinite variety of weather, from warm sunny days to howling winds and the odd heavy downpour, but most importantly we had fantastic light – all we could ask for!
During our week together, we visited all corners of the island from the "Eperquerie Common" in the north, to the Pilcher Monument in the west, Maseline and Creux harbours in the east and Dixcart and Derrible bays in the south. We also spent a day on Little Sark which is joined to the main island by the vertigo inducing "La Coupee", during which we even managed to squeeze in a wine tasting between photographic stops! The beauty of being on such a small island is that you can go in the direction that promises the most in terms of light, shelter from any wind, tidal and surf conditions etc. and if the weather changes then within a short time you can move to the opposite side of the island where conditions can be completely different.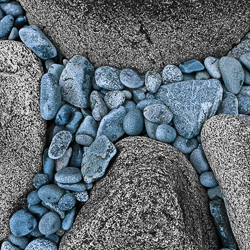 One key focus of this trip was to help each client put together a body of work that would be suitable for publication as a book to remember and share their Sark experience with others. In the second half of the week we stopped working as a group and instead, individuals were free to choose their own photographic destinations based on their own vision of the island. In between excursions, we organised one to one sessions where we talked through each person's work so far and made suggestions as to how they might expand their portfolio. As I write this piece I am aware that 4 clients have already produced books through the Blurb website – a fantastic achievement so a huge "Well Done" to Anne, David, Greg & Peter. Do take a moment to have a look at their books through the Blurb website – I'm sure you'll agree they've all done a great job…
Blurb Books
Please click on the book covers below to preview the books on the Blurb website.
| | | | |
| --- | --- | --- | --- |
| Anne Rogers | Dave Martin | Greg Chianis | Peter Wilman |
I am pretty sure that there will be some other books coming out soon, so I will add them to this page as I find out about them…
UPDATE: I was right! Peter Shepheard and Alun & Val Thomas have now completed their books! Here are the links....
| | |
| --- | --- |
| Peter Shepheard | Alun & Val Thomas |
In the end the week turned out to be a huge success and Clive and I would like to thank everyone who attended for helping to make that the case. We would also like to thank Paul, Alex and everyone at Stocks for giving us the perfect week. I notice that since our visit Stocks has received a 2012 "Award of Excellence" from Trip Advisor so congratulations to you all for this well deserved accolade.
Our week ended with a group slide show where everyone selected their three favourite images from the week. After yet another sumptuous dinner we all grabbed a drink and made our way to the library for the show. We were delighted to be joined by many of the hotel staff for the event and were stunned by the quality of the photography produced. We were also delighted to announce that Outdoor Photography had agreed to us using the trip as one of our monthly "On Location" articles. So please try and grab a copy of the August issue of the magazine (published in July) to see more images from the trip.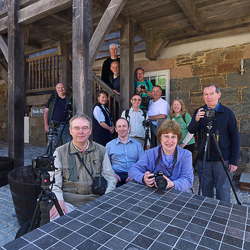 Our adventure continued right up until departure time when the 10:00am ferry to Guernsey was cancelled due to high winds. We all managed to take this in our stride, and as no-one wanted to leave our island paradise anyway, we were all happy to stay a few more hours. Some lucky individuals even managed to negotiate an additional night at Stocks (at a very reasonable rate) and I for one was very envious as I waved goodbye from the ferry as it finally left to take us back to reality.
After such a fantastic trip, we were obviously keen to get the 2013 adventure sorted as quickly as possible. The tour is now live on the Light & Website so if you fancy a slice of paradise that doesn't require a long-haul flight then why not join us on the beautiful Isle of Sark in April next year? Please click on "Workshops" above to find out more....